Connectivity for Oregon's Public & Non-Profit Sectors
How We Operate & What We Do
Link Oregon, a federally tax-exempt 501(c)(3) Oregon non-profit organization, provides high-speed, fiber-optic broadband connectivity to our state's public and non-profit sectors.
Link Oregon provides fast, reliable, cost-effective Internet and shared network services to K-12 and higher ed, libraries, Tribes, public healthcare organizations, remote state offices, and other public and non-profit organizations and facilities across Oregon. This high-capacity network will eventually serve more than 600+ locations across the state, making it easier for these entities to collaborate, share information, and deliver services to Oregon residents and visitors.
Our Ecosystem
Link Oregon is a consortium of the State of Oregon through its Enterprise Information Services (EIS) unit and the state's four largest research universities: Oregon State University, OHSU, Portland State University, and the University of Oregon.
Link Oregon works with an ecosystem of community and commercial collaborators to build and maintain our systems and services. We have engaged with local and national telecommunications companies to access approximately 2,500 route-miles of dark fiber-optic cable across the state.
Our History
Link Oregon was founded in 2019 as the Oregon Fiber Partnership. Upon formation, Link Oregon absorbed the University of Oregon's former Network for Education and Research in Oregon (NERO) and its members. We are actively engaged in adding additional members across the state.
Link Oregon has, thus far, deployed a secure network with more than 50 service locations. We will continue to expand the network's reach and capacity, ensuring our ability to support the needs of public and non-profit organizations across the state.
The COVID-19 pandemic has made the existing connectivity needs in our state — particularly in the areas of education and health care — more visible and more critical than ever, and especially for remote and underserved communities. We are working to address these challenges now and establish new levels of service going forward.
More Than Technology
In addressing the needs of our members, our vision extends to supporting current and new technologies and the associated data requirements — for such areas as Internet of Things (IoT), Big Data, blockchain, artificial intelligence, virtual and augmented reality and others — to make Oregon smarter, more responsive, more equitable, and more resilient.
Link Oregon engages with rural and Tribal communities to better understand their needs and assist in improving their broadband access. We benefit from participation in activities with other broadband organizations and agencies to share best practices and resources.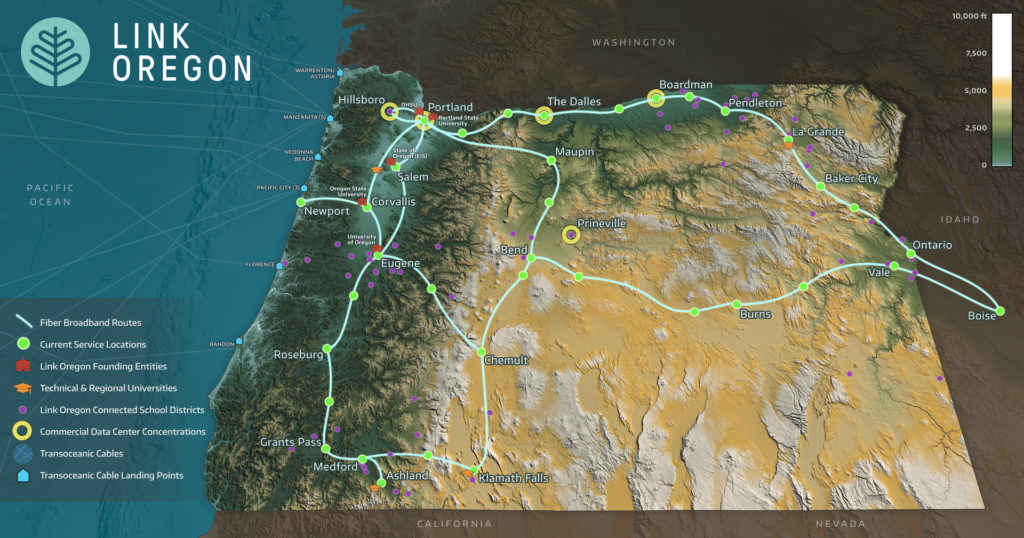 Contact Us
Mailing Address:
Link Oregon
630 SW Mill St, Room 114
Portland, OR 97201
Accounts Receivable:
Mail checks only to
PO Box 4800, OFP Unit 15
Portland OR 97208
Email:
info@linkoregon.org