Link Oregon is a federally tax-exempt 501(c)(3) Oregon non-profit organization, a consortium of the State of Oregon through its Office of Enterprise Information Services (EIS) and the state's research universities—Oregon State University, OHSU, Portland State University, and the University of Oregon, which provides high-speed, fiber-optic broadband connectivity to our state's public and non-profit sectors. We also work with an ecosystem of community and commercial collaborators to build and maintain our systems and services.
Link Oregon works with new and existing resources and connections, including local and national telecommunications companies, which provide the nearly 2,500 route-miles of dark fiber-optic cable that will be lit across the state as a shared network backbone.
For Research, Education, & Government
Founded as the Oregon Fiber Partnership, Link Oregon brings together the power of its partnerships to develop a high-speed, high-capacity, fiber-optic network that will enable enhanced data processing, collaboration, and data-sharing requirements of public and non-profit organizations across Oregon.
Link Oregon draws on the vision and public-service mission of the State of Oregon EIS as well as on the research needs, academic resources, and networking expertise of its four university-research members—and particularly upon that of University of Oregon's former Research and Education Network of Oregon (NERO) which has merged with Link Oregon.
In alignment with our founding members and its community and commercial collaborators, Link Oregon will deploy an extensive, secure network with the information-carrying capacity to conduct and manage research and process the data generated within the public and non-profit sectors. This effort extends to statewide to organizations serving all Oregonians—particularly in the areas of education and health care—during the current pandemic as well as longer-term.
Our vision extends to supporting current and new technologies and the associated data requirements—for such areas as Internet of Things (IoT), Big Data, Blockchain, artificial intelligence, virtual and augmented reality and others—to make Oregon smarter, more responsive, more equitable, and more resilient.
For Urban & Rural Non-Profit and Public Services
Link Oregon will extend fast, reliable, cost-effective internet and shared network services to K-12 and higher ed, libraries, Native Tribes, public health care organizations, remote state offices and other public and non-profit facilities across the state of Oregon. This high-capacity network will serve more than 600+ locations across the state, making it easier for those sites to collaborate, share information, and deliver services to Oregon residents and visitors.
Link Oregon will collaborate with rural communities to improve broadband access as well as with broadband organizations in neighboring states to share best practices and resources.
Planned Network Connection Sites
Newport • Portland / Hillsboro • Salem • Corvallis • Eugene • Roseburg • Grants Pass • Medford / Central Point • Ashland • The Dalles • Bend • Klamath Falls • Pendleton • La Grande • Ontario • Burns • Boise, Idaho • Florence (possible) • Coos Bay (possible)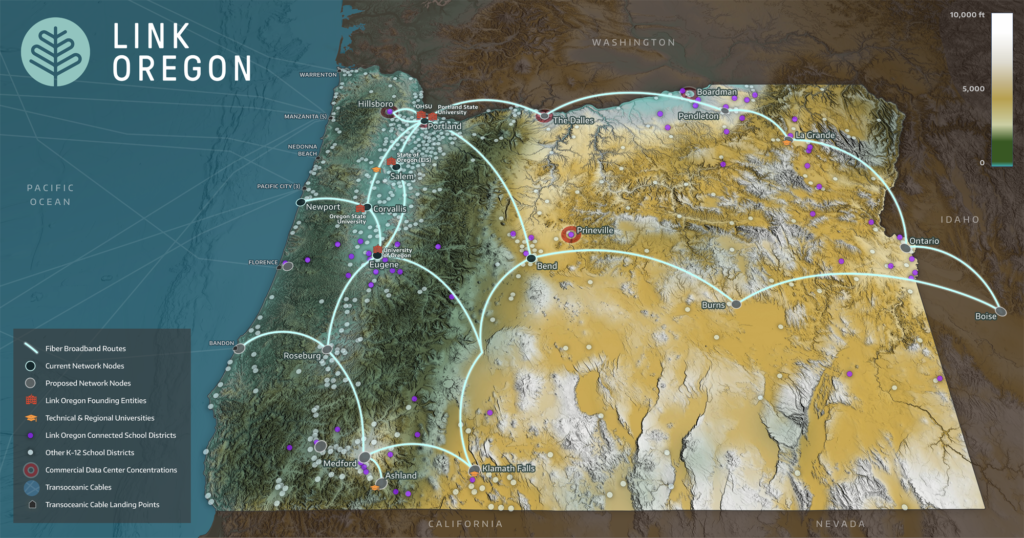 Implementation
Over 3-5 years
State of Oregon and University funded
Partnerships with private and public telecommunications companies