A Mission-Driven Consortium bringing Fiber Broadband Connectivity to Oregon's Public and Non-Profit Sectors
Hello Oregon: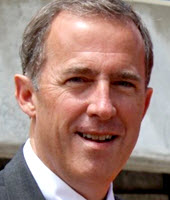 I'm Steve Corbató, executive director of Link Oregon, and I want to introduce you to Link Oregon (previously known as the Oregon Fiber Partnership). But first, let me set a bit of context…
With high-speed internet now a fundamental building block of our modern economy—it is as critical to community sustainability and resilience as roads, bridges, drinking water, and sewer systems. In most of Oregon's urban centers and suburbs, broadband is fast, reliable, and relatively cost-effective. Public and non-profit organizations benefit from their ability to access services, conduct research, and share information.
But in many cases, if you head even a few tens of miles away from these metropolitan hubs—to the coast, the mountains, or the high desert—reliable connectivity is far from a given. Consider then that for rural K-12 schools, colleges, libraries, Tribes, and even remote state offices, connectivity can be slow, spotty, costly, or simply unavailable. If our state's rural communities are to remain vital, if public and non-profit organizations are to serve them effectively, if education and innovation are to flourish statewide—Oregon must find a way to provide this necessary digital infrastructure.
That's where Link Oregon comes in.
Link Oregon is the new, non-profit consortium of five entities: Oregon's four research universities—Oregon State University, the University of Oregon, OHSU, and Portland State University—and the state of Oregon government—through its Enterprise Information Services organization. View our Board of Directors
Link Oregon was born out of multiple drivers: The universities need to improve access to information and educational services and to leverage research resources. The State seeking to ensure that its statewide service offices, in even the most remote regions, have reliable connectivity to operate and to serve the public. The name Link Oregon became our operating name earlier this year. Since the time that we formed, we've been building alliances and gathering momentum.
Collaboration is key. To be clear, Link Oregon is not in the business of providing broadband services to individuals or the business sector—that is the providence of telecom service providers and municipal broadband organizations. That's why Link Oregon is eager to partner with these forward-leaning organizations to harness existing fiber resources, extend the network reach, and further the cause of providing broadband to the public and non-profit sectors across our state and beyond.
With investments from its five founding members and by partnering with a variety of telecom companies (such as PEAK Internet / Pioneer Telecom, Century Link, and others) as well as other key providers and agencies, Link Oregon is already underway on its mission to build out a fiber broadband network for the state's public and non-profit sectors. In September, we announced the launch of our first new segment in between the Oregon State University's main campus in Corvallis and its Hatfield Marine Science Center at the coast in Newport to speed the processing and exchange of research data. And that's just the beginning of a phased rollout across the state.
What's exciting is that this reliable, high-speed, cost-effective network will allow us to not only serve higher-ed research and the state government but also to provide connectivity support for a host of other public and non-profit organizations and communities—from Astoria to Burns, from Brookings to La Grande, and every place in between.
We got an incredible jump-start on building our community in August when we brought on board the Network for Education and Research (NERO), which originated at the University of Oregon to support network connectivity for Oregon education and research communities, which it did very successfully for the past two decades. And now they're part of Link Oregon. We excited to be able to build on NERO's significant experience and expertise and grateful to have Stephen Fromm and Richard Hicks, NERO's formidable network engineers, as part of our team. Stephen noted recently that joining together with Link Oregon provides, as he put it, "a unique and tremendous opportunity to expand and deepen network connectivity across the state." And we're very glad to have Rick and him aboard to do just that. [You can learn more about NERO and its integration in this recorded webinar.]
Link Oregon works closely with a number of other key organizations dedicated to providing network infrastructure and support for non-profit and public organizations that extend across the US, the continent, and the globe. These include The Quilt (a network of regional education and research networks), Internet2 (a member-driven advanced technology community for US research and education organizations), ESnet (the Department of Energy's energy sciences network for researchers) and others who are trusted partners in this effort. In September, Link Oregon and CENIC signed a partnership agreement to share resources and expertise. (CENIC is the California non-profit network that supports some 20 million users in the Golden State.) We will certainly benefit from observing and collaborating with these and other state network providers.
If we haven't met you yet, we want to. We are a small organization: I serve as executive director, Molly Thurston is our executive specialist. Earlier we mentioned our network engineers Stephen Fromm and Rick Hicks. We recently welcomed business manager Tina Kirk. Ann M. Marcus is our communications consultant. And we will likely be adding a few more folks soon. We've been traveling across the state to attend events and to meet with many community and public agency leaders and members. We'd like to learn more about you. Please contact us to schedule a meeting and see if we can be of help in ensuring your community's public organizations have reliable, cost effective, high-speed internet at the ready.
You can learn more about Link Oregon on our website: (http://www.linkoregon.org) or via Twitter, Facebook or LinkedIn…or you can <click here> to email me directly.
Thanks, Steve
Next up: On Partnerships that Make Statewide Connectivity Possible