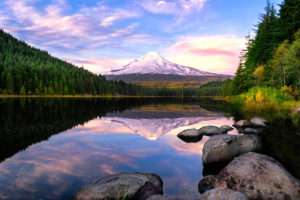 Oregon boasts a stunning coastline, lush forests, snow-covered peaks and astonishing desert landscapes — but communities in these remote areas often face significant limitations when it comes to network connectivity.
What will it take to provide Oregon's public and non-profit organizations with the connectivity they require to best serve their communities? For public sector and non-profit organizations, such as public schools, health care facilities, research institutions, libraries, Tribal facilities, and state government offices, connectivity is crucial to delivering the services that fulfill their missions. Terrain, weather, undercapitalized service providers and outdated infrastructure are all factors that can limit connectivity, particularly in remote parts of the state.
Networks supporting public organizations should be affordable, able to support at least 20 Mbps down and 3 Mbps up (according to the Federal Communications Commission's (FCC) December 2019 fixed broadband minimum service standards) and include redundancy and resiliency to minimize service disruption. Further, modern applications in healthcare and remote conferencing often require significantly more bandwidth than these FCC recommendations.
What type of network provides the best speed and reliability? Fiber is the fastest, most reliable means of transporting data today. Fiber optic cable is still more reliable than modern wireless options, but it is expensive, as is the process of digging and burying the cable—particularly in areas where the terrain is rugged or the soil contains volcanic rock. For this reason, Link Oregon draws on the infrastructure capabilities of the state's telecom providers to secure already installed "dark" (or unlit) fiber rather than attempting the costly undertaking of laying new fiber.
How is connectivity provided now and what are the challenges? Along with traditional national and regional telecom companies—which may not provide service in the state's remote regions—cities themselves are launching municipal broadband service organizations, which curate equipment and craft data agreements for their constituents. Oregon communities of all sizes have undertaken efforts to provide connectivity to their residents over the past decade and a half: SandyNet, in Sandy, was one of the first municipal broadband solutions when it launched in 2003. The cities of Monmouth and Independence launched MINET in 2006, and the desert town of Maupin—with only 438 residents—worked with partners to complete a public fiber network in early 2019. The city of Hillsboro plans to launch a municipal network in 2020.
While municipal networks can be useful in delivering high-speed public broadband services, they can be very complex to manage. Smaller communities can struggle to secure personnel with the expertise to take big fiber development projects from start to finish, and the initial and ongoing costs of deploying a municipal network can be significant, especially without strategic partners.
Can a statewide fiber solution help to mitigate challenges? By offering a statewide solution, Link Oregon's approach will fill the gaps in broadband access faced by public sector and non-profit organizations statewide. This includes building on the investments by our research universities and state government (our founding entities, introduced in my previous blog post). The strategy includes spreading the costs of network management across communities, leveraging economies of scale with private telecom partners, working across multiple regions, and integrating new and existing services and resources.
What role does collaboration play in developing a statewide connectivity solution for the public and non-profit sectors? Collaboration is critical. Link Oregon works closely with a variety of organizations: small service infrastructure providers, large telecommunications companies, optronic service providers, and application developers. We are working with national providers like Century Link and with local providers like PEAK Internet, a subsidiary of Pioneer Telecommunications. Through these and other such agreements, Link Oregon will offer both Ethernet-based transport and enhanced internet services. In addition, we will actively pursue local peering to deliver more cost-effective, resilient connectivity. We also benefit from the knowledge and experience of other regional and national organizations in the field, including The Quilt, Internet2, ESnet, NOAA's N-WAVE, CENIC, the Oregon State Broadband Office, and the U.S. Department of Agriculture's Rural Development ReConnect program (which recently awarded $6M in grants to Oregon's Wheeler and Grant counties to expand broadband infrastructure).
Are communities involved? Community outreach is key. Designing and deploying complex technology systems to ensure they serve the needs of the people who will be using them requires a lot of listening, patience, and time. It's not just about tech…it's about people. A large part of the work we do involves sitting down with community leaders, policy makers, representatives working in government agencies at all levels and others interested in creating a strong support and service delivery network across our economically, environmentally, topographically, and culturally diverse state. I've traversed the state to meet with community champions and plan to do much more of that. We are dedicated to partnering with any organization that will further our efforts to provide Oregon with a reliable, cost-effective public infrastructure that can help further the missions of public and non-profit organizations across all communities statewide.
Let's work together! If your organization or community is interested in collaborating with us on building a robust fiber broadband network for Oregon's public and non-profit sectors, please reach out via Twitter, Facebook or LinkedIn, or email me directly.
Thanks, Steve