Five Research & Education Networks Collaborate during Chaotic Times for Better Broadband
On April 13, 2020, California Governor Gavin Newsom, along with Washington Governor Jay Inslee, and Oregon Governor Kate Brown, announced the Western States Pact, an agreement to work together on a shared approach to reopening the economies of the three states. The agreement set out guidelines for readiness designed to reflect and protect the health of citizens from COVID-19.
In response, CENIC, the non-profit research and education (R&E) network in California, spearheaded the effort to align with the other two statewide R&E networks—Link Oregon and Pacific Northwest GigaPop (PNWGP) in Washington—to step up and answer the need for the extensive network support that the governors' shared approach would require.
In our April 15 joint press release, CENIC President and CEO Louis Fox expressed our shared support for collaboration between and among schools, universities, and healthcare institutions. He noted the increase in the use of R&E networks as public-serving institutions began to shift toward offering online learning and community engagement, enabling remote access to research data, and providing specialized computing facilities on campuses and in the cloud. PNWGP CEO Ron Johnson also cited the significant increases in network traffic among medical and epidemiolocal researchers and modelers, particularly in the West, and expressed the importance of supporting research data exchange as it could potentially expedite new COVID treatments and public health responses.
In subsequent weeks, Colorado Governor Jared Polis and Nevada Governor Steve Sisolak signed on to the Western States Pact. Soon thereafter, these state's corresponding networks—Colorado's Front Range GigaPoP (FRGP) and NevadaNet—joined our network alliance to share ideas, resources, challenges, and solutions.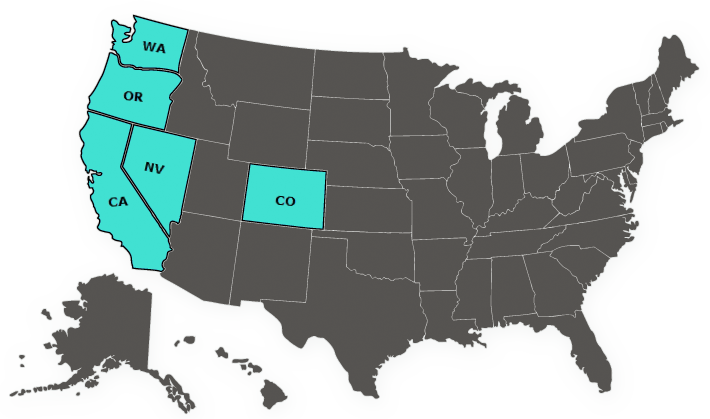 Since the adoption of Western States Pact, each state went on to craft and follow its own strategy for re-opening its economy, with varied outcomes. Safety guidelines have been more strictly enforced and followed in some states. Recently, and earlier than predicted, another wave of COVID cases has surfaced in many locations in the U.S., including a dramatic spike in Oregon.
Representatives from the statewide R&E networks have been meeting monthly to discuss requirements and critical broadband safety nets for running the state networks. This "Western States Pact Broadband Coordination Group" now includes a broad array of voices from technology, education, and government from across the five states, including Chris Tamarin from the Oregon Broadband Office, Jennifer Patterson and Darci Hanning from the State Library of Oregon, Amy Philipson of PNWGP, Cindy Aden of the Washington State Library, Monica Babine of the Washington State University Extension program who works closely with Russ Elliott of the Washington State Broadband Office, Marla Meehl from FRGP in Colorado, Anne Milkovich from the Nevada System of Higher Education, Vice Provost for IT and CIO for the University of Nevada, Reno Steve Smith, and Louis Fox of CENIC, of course.
Louis Fox, Cindy Aden, and I have been co-chairing these meetings for the past couple of months. One of the key topics we've discussed so far has been whether the current FCC minimum definition for broadband of 25 Mbps down and 3 Mbps up is adequate, not only for immediate needs, but for the longer-term "new normal." Perhaps instead we should apply the oft-quoted Gretzky aphorism: "Skate to where the puck is going to be." That is, we are considering if the baseline should be updated to anticipate the requirements of our new ways of working, learning, and conducting and sharing research as well as the continuously evolving networking and platform technologies.
It is clear to all of us that the role of broadband in addressing key public health, education, and socioeconomic issues remains as critical as ever. As middle-mile providers, Link Oregon and the other R&E networks strive to enable public, non-profit, and state institutions to offer all residents equitable access to learning resources, telehealth services, and other public resources and information.
Each state has been busy securing funding from various sources to support its network development work. For Oregon, one piece of legislation considered during the Legislature's special session last week was SB 1603 that provides an extra financial boost by providing broadband matching funds for chronically underserved or unserved communities. Governor Brown announced its passage late last week. Other funding efforts are underway as well, as revolutionizing the state's network to serve all residents is an enormous undertaking.
And, of course, it is challenging to predict how long we will need to remain distanced and intensely reliant on broadband for daily activities. As Dr. Anthony Fauci, director of the National Institute of Allergy and Infectious Diseases, noted back in early March, '[We] don't make the timeline; the virus makes the timeline." But we know that the connectivity gaps were there even before the outbreak. So, our efforts now are addressing a backlog of connectivity issues in addition to responding to the current situation and positioning Oregon for a strong recovery and greater resilience into the future. There is a still a lot of work to do. Fortunately, we can now draw on the strength and experience of our colleagues in the Western States Pact Broadband Coordination Group.
As always, we invite your questions, comments, and suggestions: Info@LinkOregon.org
—Steve