The 2020 wildfire season exploded well ahead of schedule this year under conditions of record low humidity, extreme winds, and scorching temperatures—Death Valley reached 130 degrees last month, the highest mercury reading on Earth in almost 90 years. Fires ignited by epic storms, human error, and, reportedly, even by intention are currently ravaging huge swaths of California, Oregon, Washington, and other western states. Communities already facing loss and hardship related to COVID-19 are now scrambling to protect family, businesses, livestock, and property. And, due to the fires, the air quality in Oregon is currently the worst in the world. Our thoughts go out to everyone in harm's way.
As Link Oregon architects its statewide fiber broadband network, we are considering the access and data transmission needs of our partners in research, education, healthcare, and public service. This translates into an opportunity to bolster the efficacy of two early warning systems—ALERTWildfire and ShakeAlert®—that are working to reduce the devastating impact of wildfires and earthquakes. Both collaborations extend across multiple US states and are particularly important in the West, where these events occur with greater frequency.
Doug Toomey—a professor in the Earth Sciences department at the University of Oregon (UO), director of the Oregon Hazards Lab (O-HAZ), and a pioneer in the use of ocean-bottom seismology to study tectonic and volcanic processes—oversees both the ALERTWildfire and ShakeAlert programs for Oregon. Doug is a colleague and a friend, and the University of Oregon is one of Link Oregon's five founding members.
ALERTWildfire leverages the visual data captured from hundreds of public and private cameras posted on peaks across Nevada, California, Washington, Idaho, and Oregon. Originally developed at the University of Nevada, Reno, (UNR), as ALERTTahoe, ALERTWildfire has expanded across the United States. In Oregon, the program is thus far supported by the U.S. Bureau of Land Management and newcomer Portland General Electric, and it is managed by its core academic partners, UNR, University of California, San Diego, and Doug's team at the University of Oregon.
The cameras operate and deliver images 24/7—millions of images in all—and provide various time-lapse playback options that officials and the public can review to identify the start and spread of wildfires and to aid evacuation efforts. Additionally, fire officials with credentialed access can control the HD pan-tilt-zoom cameras, providing critical real-time intel for air and ground fire response and ensuring the safety of fire crews. With Link Oregon's fiber broadband network, the system can transmit smoother, clearer images more quickly, with increased resilience and redundancy. The service has already been successful in providing data on over 1,000 fires (2016 to 2019) and, according to CalFIRE, allowed emergency personnel to save as much as 30 minutes in responding to the devastating 2019 Kincade wildfire. In these situations, saving minutes can translate to significant savings in lives and property.
ShakeAlert was developed over a decade ago by the California Institute of Technology (CalTech) and UC Berkeley with funding from the United States Geological Survey (USGS) and the Gordon and Betty Moore Foundation. ShakeAlert is now supported by the USGS in collaboration with California Governor's Office of Emergency Services (Cal OES), the State of Oregon, and academic and foundation partners including the University of California-Berkeley, the University of Washington, and the University of Oregon.
When fully implemented, ShakeAlert will track seismic data from more than 1,600 high-end seismometers located across the western states. The data that they collect go to one of three centralized processing locations—in Seattle, Menlo Park (California), and Los Angeles—and is used to alert first-responders, public agencies, industry, and residents. Advance warning of even a few moments can allow recipients to, say, halt the transport of hazardous materials, suspend a delicate medical procedure, or move an elderly relative to a safer location before the local shaking begins.
Currently, data from these far-flung sensors are transmitted via fixed wireless, cellular networks, and the internet to the three central processing points. While these modes transmit the relatively lean packets of data quickly enough, dropping the data onto Link Oregon fiber provides greater reliability and resilience—which is particularly valuable in cases where cell and WIFI equipment becomes overwhelmed or damaged during an event.
During Link Oregon's network design process, the tiny community of Millican, at the base of Pine Mountain in Deschutes County, Oregon, came to our attention.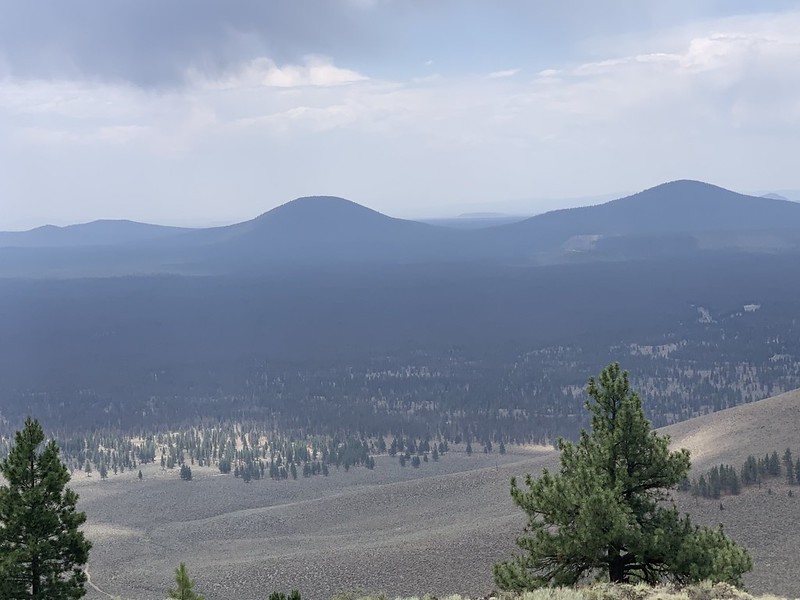 Millican, located some 25 miles east of Bend, is generally on the route that Link Oregon's network extension will take but doesn't necessarily stand out as an obvious choice to consider for a network access point. However, we knew from Doug and O-HAZ project manager, Leland O'Driscoll, that a set of critical ShakeAlert seismic sensors sit atop Pine Mountain and that the Oregon Department of Transportation will allow O-HAZ to use a communications tower on Pine Mountain as a hub for gathering data from BLM-funded ALERTWildfire cameras in SE Oregon. Having an access point into the fiber network close to the base of the mountain will improve ShakeAlert's and ALERTWildfire's download capabilities and also support UO's Pine Mountain Observatory.
In Oregon, ShakeAlert is currently about 50% complete, but in August, the Oregon legislature allocated $7.5 million to fund further development. The grant will allow this important program to double its number of sensors, improve its networking infrastructure, and ramp up to full operation.
Our kudos to Doug Toomey and the hardworking O-HAZ team on driving these important programs in Oregon, and congratulations on receiving the funding for further ShakeAlert development. We're pleased to be coordinating with them to increase bandwidth, improve resiliency, and create redundancy, all of which will enhance the ability to share critical ShakeAlert and ALERTWildfire safety and planning data with other researchers, government, and the public.
As always, we invite your questions and comments to info@linkoregon.org.
Stay safe!
Steve