June 28, 2022
We're pleased to provide the following summary of Link Oregon's Annual Member Meeting, a robust 2-hour virtual program, held on June 28, that featured discussions on the current and future state of Oregon's broadband ecosystem, with a focus on the middle mile.
First, we offer our sincere thanks to our guest speakers (in order of appearance):
Louis Fox, President & CEO, CENIC, and CEO, GoldenStateNet
Aaron Schill, Director of Research and Programs, National Digital Inclusion Alliance
Elisabeth Perez, Director, Office for Community Technology, City of Portland
Rachael Maddock-Hughes, Project Lead, Faster Internet Oregon
Buzzy Nielsen, Program Manager, State Library of Oregon
Andrea Ballinger, Link Oregon Board Chair and Vice Provost for Information and Technology and Chief Information Officer, Oregon State University
Terrence Woods, Link Oregon Board Vice Chair and Chief Information Officer, State of Oregon Enterprise Information Services
Stuart Long, Link Oregon Board Member and Chief Information Officer, Cascade Technology Alliance and Northwest Regional Education Service District
Bruce Zimmerman, Tax Administrator, Confederated Tribes of the Umatilla Indian Reservation
Also, a big thank you to Stephanie Stenberg of Internet2's CAP program for taking and sharing her extensive notes of the event (which we relied on heavily for this summary!)
The full program agenda is here. In fact, you will find all the materials—slide presentations, reports that were mentioned, and a recording of the event—in this Google Drive Folder (https://drive.google.com/drive/folders/1i25c9Sbj90IE7XAHuZ1e_j3G5bUp3A3S)
9:00am – 9:20 am
Link Oregon Milestones, Operational Accomplishments, and Looking Ahead with Steve Corbató, Executive Director, Link Oregon
Middle Mile Infrastructure Planning Group Report
The Planning Group was convened at the request of Oregon Representatives Marsh and Owens and Senator Beyer. The report informed their work in crafting 2022 legislation on broadband policy for Oregon.
The bipartisan group of middle-mile experts included provider and low Earth orbit satellite (LEOS) sectors, Kurtis Danka of EIS, Daniel Holbrook of OBO, and David Barber of OSU. It was co-chaired by Stuart Taubman of Zayo and by Steve and included these 12 recommendations:
Ensure a robust, capable broadband office
Future-proof residential broadband standard
Accelerate broadband mapping
Create a central repository of middle-mile maps
Support a richer array of local Internet exchanges
Set effective strategies for making public broadband investments
Fund needed middle-mile extensions
Future growth and equitable access for publicly funded network assets
State & local governments are important stakeholders
Take a 'whole of government' approach
Consider the full spectrum of technologies, including LEOS
Broadband adoption is not just a technical issue
Envisioning Link Oregon Network Expansion
Planning 'Phase 3' of our network expansion:
Oregon Coast (US 101): Rings connecting the northern and central coast regions between Astoria/Warrenton and Brookings

Multiple segments for resiliency across the Coast Range: Portland-Scappoose, Astoria, Lincoln City-Hillsboro, Florence-Eugene, and Bandon-Roseburg
Existing Newport-Corvallis segment in production
Working with Central Lincoln PUD; we already own fiber to Florence and Bandon

Eastern Oregon additions: Lakeview, Prineville, Mitchell, John Day, and Enterprise

Resilient connectivity for Lake, Grant, and Wallowa Counties

Southbound: Critical resiliency for southern Oregon

Collaboration with CENIC ($3.2B middle mile project) – interstate connections
Four corridors: US 101 (Brookings —Crescent City CA), I-5 (Ashland south), US 97 (Klamath Falls —Redding CA), and US 395 (Lakeview – Alturas CA)
Oregon Tribal Broadband Summits
The OTBS series convenes Oregon Tribal leaders and IT staff, state and federal agency representatives, and community members
Discuss practical strategies for identifying successes and roadblocks
Develop sustainable broadband infrastructure initiatives led by the Tribes
Many partners: UO, OSU, Network Startup Resource Center, ATNI-EDC
Community of practice to establish trusted partnerships and advance digital equity and access for Tribal communities
Three OTBS summits have taken place thus far: December 2021, March 2022, and April 2022 (OBO Listening Session)
Oregon Tribal Broadband Bootcamp scheduled for early August 2022 at UO
Faster Internet Oregon (www.FasterInternetOregon.org)
Link Oregon is partnering with Economic Development Districts & other public entities on Faster Internet Oregon (FIO), a grassroots speed test & broadband mapping project.
GEO Partners software is already in use in other states to acquire crowdsourced broadband data to map coverage and develop estimated budgets for various solution scenarios.
We are coordinating with the Oregon Broadband Office.
Help us promote Faster Internet Oregon widely: Visit www.FasterInternetOregon.org, take the speed test, and share it with colleagues / constituents.
Promotion materials in English and Spanish are available on the website.
Look for & share Faster Internet Oregon on Facebook, Instagram, LinkedIn, and Twitter.
Future of Link Oregon Connectivity
Statewide Fiber Network: Access to a modern, resilient, middle-mile fiber network
Enhanced Bandwidth: Speeds up to 100 Gbps—an increase of 10x to 100x
Improved Performance: High-speed connections with low latency

2×100 Gbps to Internet2 (Portland, Boise), 100 Gbps to CENIC (Sunnyvale CA)
Oregon Internet Exchanges (IXes): NWAX, WIX, and COIX

Cloud / Internet Exchange Points (IXP): Enabling direct connections ("peering") with Cloud Service Providers

Microsoft (Azure), Amazon (AWS), Google, Oracle

Last-Mile Fiber: Enables scalable bandwidth increases at member locations
Cybersecurity: Distributed Denial of Service (DDoS) detection and mitigation
Statewide eduroam Program
eduroam is a secure, worldwide network that acts as a giant hotspot for the educational & research communities to allow members from any participating organization to access each other's WiFi networks; overseen by Internet2 in the US
Seamless WiFi roaming: Participating institutions provide access to their wireless networks to users from other eduroam-connected institutions; users are authenticated by their home institution
Participants include K-12 school districts, education service districts, community colleges, universities, libraries, museums, and research organizations
Link Oregon has been selected to participate in the eduroam Support Organization (SO) on-ramp program
Initial cohort of five school districts, libraries, or museums (no cost in '22)
After the first year, Link Oregon will become a full SO and manage eduroam for all participating K-12s, libraries, and museums in the state.
9:20-9:40 AM
Middle Mile Futures – Report from the Golden State with Louis Fox, President & CEO, CENIC and CEO, GoldenState
CENIC developed its own map using utility data, Microsoft, and also by identifying areas of extreme poverty.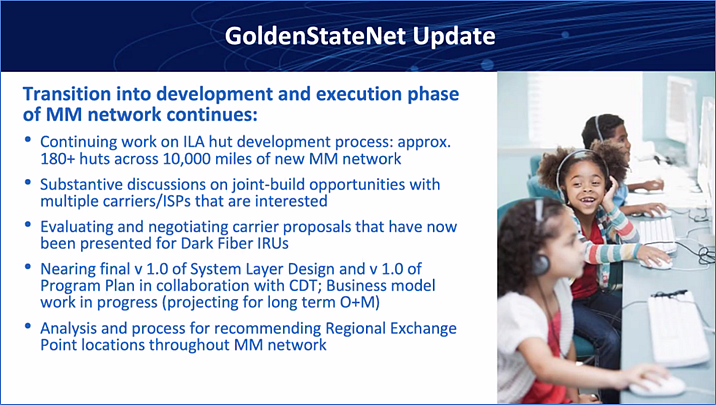 9:40-10:00 AM
Digital Equity Community Programs and Policy Landscape with:
Aaron Schill, Director of Research & Programs, National Digital Inclusion Alliance
Aaron Schill, NDIA
Three solutions:
Affordable broadband
Appropriate devices
Digital skills and technical support
There are 2 holistic approaches that NDIA has seen work:
Digital Navigator Programs—See 1. NDIA's Digital Navigator Model here; check out the NDIA National Digital Navigator Corps
Digital Inclusion Coalitions—Place-based coalitions
Elisabeth Perez, City of Portland, Office for Community Technology
City of Portland has a $250,000 annual Digital Inclusion Fund

Digital Navigator Program for 4 nonprofits
Digital Toolbox grants for BIPOC-owned small businesses
Partnership with Comcast

ARPA outreach and engagement

The city partners with the community engagement firm Asceta
Using engagement for $3.5M in ARPA and other opportunities

Community Connectivity Group
Digital Equity Roundtable with community and legislators

City workers are trying to distill the federal and state requirements for coalition members so they can work together to apply for funding

Digital Inclusion Network re-imagining

Re-envisioning the coalition—it's been unfunded and informal, so they are working to set achievable goals that are funded and backed by government partners
Data & Implementation
10:05-10:10 AM
Grassroots Initiatives: Faster Internet Oregon & Broadband Action Teams with Rachael Maddock-Hughes, Project Lead, Faster Internet Oregon
Broadband Action Team (BAT) leaders realized they needed a lot more data on Internet access in their communities, and it's so important for all stakeholders to take part in that.
A team made up of members of Link Oregon, Onward Eugene, SpeedUpAmerica, Oregon's Economic Development Districts, and supported by several other non-profit entities, engaged GEO Partners to create Faster Internet Oregon (FIO): https://www.FasterInternetOregon.org/

Front end of the site: Crowdsourced speed test
Back end of the site: Data captured will show the gaps in access for particular communities; will work with them to identify projects and get cost analysis & understand how competitive those projects might be in relation to different funding sources.
For questions or to get in touch with your local BAT, contact Rachael at rachael@sequoiaconsulting.org
10:10-10:20 AM
Oregon Tribes Broadband Infrastructure Planning and Deployment with Bruce Zimmerman, Tax Administrator, Confederated Tribes of the Umatilla Indian Reservation
(On the recording, Bruce's session takes place after the breakouts due to technical difficulties.)
Tribal Broadband Needs
The two greatest needs that we have identified by the nine tribes here in Oregon are the middle mile and the last mile. Those are the two main areas that we need the most assistance on to actually get connection to those various households throughout the reservation and tribal lands.
Funding Applications
Many tribes have submitted to the NTIA Tribal Connectivity Broadband Grant.

The Confederated Tribes of Siletz Indians have received a grant
Project Type: Planning, Feasibility, and Sustainability Studies
Award Amount: $500,000.00
Summary: This project will fund network planning activities in order to develop a solution for broadband infrastructure connection, construction, and service deployment for currently unserved Native American households, businesses, and community anchor institutions.

The Confederated Tribes of the Umatilla Indian Reservation applied for the construction portion of the middle mile and last mile.

Our project centered around about 340 houses that currently are unserved or have no service or such minimal service that they are still considered unserved. That middle mile was absolutely critical for us to extend out to those households to get the service there.
We made it through the initial review process and just completed our programmatic review process.
We don't know if we've been funded on the construction, but at least we're now in the review phase where they're actually looking at the merits of what we're proposing again.
Lessons Learned from our NTIA Application Process and Feedback
Some of the information and questions that came up:

They wanted extensive detail on the actual engineering design, and they wanted everything down to the file server equipment we were using as well as splitter ratios, how we were deploying it.
They were very interested in ensuring that last mile connection was done, and they actually preferred the fiber to the home over the fixed-based wireless system, and they wanted to make sure that the speeds were a minimum of 100 Gbps (and not an average speed), and that was really to facilitate educational learning as well as small business operation.

The NTIA program reviewer was very helpful in assisting and providing information about the additional requested detailed engineering and design information. We were kind of amazed here as to how much detail they actually wanted. For example, they wanted to know how many river crossings, and how we were going to comply with the National Historic Preservation Act (NHPA) requirements and the National Environmental Policy Act (NEPA). [ed: NEPA and the NHPA both require the government to examine the impacts of its proposed actions before taking them.]
As you are preparing those applications, really be prepared to do a deep dive into the technology, and how you're going to lay it out because they're focused on whether the grantee can really use the grant funds to deliver services to the households identified in the proposal. It was a very positive experience.
FCC and Mapping the Census Tracts

We actually had to show by address the areas that were unserved, and we actually had to show where the infrastructure of the existing carriers ended. Since our census tracts are quite large (like 20 miles in length), the FCC would show an entire Census tract as being served if only a very small portion of the census tract was served by a carrier. To remedy this, we did a deep dive into those census tracts, showing whether each individual household/address had service.
Audience questions in the Zoom chat:
Q: Are the Tribes able to access resources to implement the FCC 2.5 GHz spectrum awards? Spectrum was awarded but not the funds to implement. There is a time deadline to implement.
Steve Corbató:

The University of Oregon got personally engaged here, and eight of the nine recognized Tribes in Oregon applied and were able to obtain the 2.5 Gigahertz spectrum that the FCC was making available, so I think that was a tremendous success.
There was one Tribe (the Confederated Tribes of Siletz Indians) that couldn't get it; there was a spectrum conflict issue. However, they have now received an NTIA Tribal Broadband Connectivity Award for planning.

Bruce Zimmerman:

The areas we applied for the NTIA grant to serve do not lend themselves to 2.5 GHz fixed-base wireless system because of the topography. We have a lot of mountains, trees, and canyons. The only way we are going to get service to the homes out there is with fiber. Where it is flat, we are planning on using some 2.5 GHz fixed-base wireless systems, but the East and South of the reservation doesn't lend itself to that because of the topography issues.
Q: Are the tribes applying for the Treasury's Capital Projects Fund for Tribal Governments grant allocation of $167,000 per tribal government? https://home.treasury.gov/policy-issues/coronavirus/assistance-for-state-local-and-tribal-governments/capital-projects-fund/cpf-fund-for-tribal-governments
Bruce:

The deadline has been extended to August 15th.
We have been meeting as the nine tribes, and we are fully encouraging them to apply for that Treasury's Capital Projects Fund for Tribal Governments grant program. It's a great program whereby you can use that funding to help engineer and design additional last mile services for your reservation residences.
10:20-10:30 AM
Oregon Libraries' Digital Equity & Access Initiatives with Buzzy Nielsen, Program Manager, State Library of Oregon
Digital Equity and Access and Oregon Libraries
In Buzzy's division of the State Library of Oregon, the primary money source they work with is called the Library Service and Technology Act (LSTA).
They receive about $2.5 million annually, which supports library services of various kinds throughout the state. It does not fund local libraries as much, but they use it to do statewide initiatives and also special projects.
Recently received about $3 million through the American Rescue Plan Act (ARPA) and focused a lot of that money in the digital equity space.
Oregon Library LSTA- and ARPA-Funded Projects
Device Lending
Workforce Development
Digital Navigation
Remote Service
Estacada Public Library—Bookmobile with WiFi and technology
Elkton Community Education Center— Telehealth services—improved connectivity and WiFi to do this
State Library Priorities and Objectives
Priority for Oregon libraries is to close the digital divide!
Three objectives:

Support projects that increase broadband, connectivity, and technology access through libraries
Encourage libraries' digital inclusion and skills training efforts in their communities
Enhance equitable access to digital heritage collections
Going Forward
Planning on continuing conversations with the Oregon Broadband Office and the Oregon Department of Education.
We have funds that can actually help match federal funds that libraries and schools receive for broadband, so we see that advocacy in this area is really key, and we think that we're pretty well positioned as a State Library to do that.
We are also very well supported by our statewide professional association, Oregon Library Association, which is also very cognizant of these issues.
In legislative efforts around this area, OLA can be a key partner for any of you that are working in that space.
Breakout Sessions
> Technical Breakout: Link Oregon's engineering team led a technical discussion of the network.
Kevin Bohan, Senior Network Engineer & Architect (moderator)
Stephen Fromm, Network Engineer
Andy Payne, Network Engineer
Mike Gromeck, Network Engineer

Biggest challenge in the next year or two?
Keeping up with demand. We have 62 current service requests—both from existing members and also 45% of those are from new members. We currently have just over 100 members, so there is a lot of growth.
Processes like onboarding, quoting, etc. are in development because we are still a new network. We are working on staffing up and the onboarding process to get things stood up faster.
> Policy Breakout: The Broadband Vision for Oregon: What are we working toward?
Andrea Ballinger, Link Oregon Board Chair and Vice Provost for Information and Technology and CIO, Oregon State University
Terrence Woods, Link Oregon Board Vice Chair and CIO, State of Oregon Enterprise Information Services
Stuart Long, Link Oregon Board Member and CIO, Cascade Technology Alliance and Northwest Regional Education Service District
Steve Corbató (moderator)
Q: How do you see your role in expanding broadband access?
Terrence: I see non-profits, the state, etc. being a catalyst because in my opinion it's going to take everyone. We need to serve as a catalyst to expand that middle mile and find opportunities for funding. We can continue to be that light that brings everyone together for the mission of getting broadband across the state.
Andrea: A strong public and non-profit sector is key to economic development. As an R1 and land grant institution we're obligated to provide education to the region. Broadband is important for the basic needs of the population and it's important that our organizations are working to make sure everyone has the same ability to use these assets, providing access to these services that all of us should have.
Q: What role do you see K-12 playing?
Stuart: Advocacy is one portion—how do we solve those gaps for everyone and do it in an equitable way? There is a mapping/data collection piece, that is to understand the exact gaps and be more targeted in our approach. Primarily, increasing collaboration. Broadband access is a shared goal; everybody benefits from it and everybody wins when there's greater availability. Understanding each other's challenges at a regional level has really been driving me.
Q: Where do you think we can make contributions toward the state pushing the needle on adoption of broadband by all Oregonians?
Andrea: Adoption means we need to provide services associated with that: coordination to make sure the last mile is here, they need to have the equipment available, do they know how to connect, do they have services if they're kicked off and need support? Literacy — do they know how to do that connection? There's an umbrella of educational support. We can collaborate to make that possible.
Stan Curtis: This is the group that can help form the next generation of co-ops. Education, healthcare, economic development, this is life or death — that's what broadband is. The infrastructure funding could play a big part in this. Communities need digital services, that's just as important as roads.
Q: What insights do you have around building a sustainable business plan & around one- time big funding? How can we approach this in the broadband space?
Stuart: We have to build collaborative business models that are sustainable, other agencies have to work together. If we don't do that, we'll have something that's unsustainable. Finding the value proposition and finding the sustainability metric will be key.
Terrence: Affordability is so huge, as well as literacy. I see this both in my personal life and those costs keep rising. As those costs go up we have to sustain some ceiling around making this affordable for folks across the board as well as making sure they know how to use it. As someone who still drives their parents around to drop bills off because they're afraid to do it on the Internet, literacy is important.
Andrea: It's also about protection; the investment in cybersecurity protection is incredible. It's hard to keep up. There needs to be some type of base protection, a proactive behind-the-scenes control to avoid bad actors.
​​Robert Tse (USDA): USDA started rural electric cooperatives in the 1930s to bring electricity to unserved rural areas. These rural electric cooperatives are going into broadband today. For areas without electric cooperatives, the challenge and opportunity is how to start broadband cooperatives. This is an Oregon opportunity to invest into creating cooperatives. Cooperatives are eligible for federal broadband programs. Keith Taylor at UCANR Extension is working on how to start broadband cooperatives.
It's striking the analogy between electric cooperatives and broadband. Broadband hasn't come to the rural areas in the same way electricity didn't. We have found that where you have electric and telephone cooperatives, they are many of the applicants to the USDA funding and they have advantages because they already have the customers. Where they do exist, there's a lot of opportunity for funding. Where they don't exist, there's an opportunity to create a cooperative or municipal network that allows local control. One example: An Indiana rural electric cooperative continuously asked their members what they wanted and the members said they wanted broadband: They have gotten 2 USDA broadband grants and created a subsidiary to build it. Look at the assets you already have and leverage them, and it will take you further.
Brant Wolf, Oregon Telecom. Association: There are already 11 telecommunications cooperatives operating in rural Oregon. A few have been around for over 100 years. Sometimes it's easy to forget that there are existing telecommunications cooperatives, we stand ready to help anywhere we can. We don't have the same profit motive and have a diverse membership.
Q: Any final comments?
Terrence: Better together.
Stuart: I second that, not to lose the affordability piece. It's the other leg in the big stool, it's so critical.
Andrea: It's time to act now, we can't miss this wave. We have to act.
---
Thank you for reading through this summary!
You can watch the recording of this meeting here: https://drive.google.com/file/d/1UPDODNb1dKyCGzK9MJaU9eeqcQk206pj/view?usp=sharing
Additional presentations and reports are available here: https://drive.google.com/drive/folders/1i25c9Sbj90IE7XAHuZ1e_j3G5bUp3A3S
We hope to see you next year at our Annual Member Meeting!